G5RV Multi Band Antenna
---
Short Description:The G5RV is a classic multi-band wire antenna originally conceived by Louis Varney (G5RV).
---
G5RV Standard Multi-Band Antenna
Band coverage: 3.5-28 MHz

Length: 102 feet
31.08 meters (15.54 each side )
Matching section: 31.3 ft (ladder line)
9.63 meters
The G5RV is a classic multi-band wire antenna originally conceived by Louis Varney (G5RV).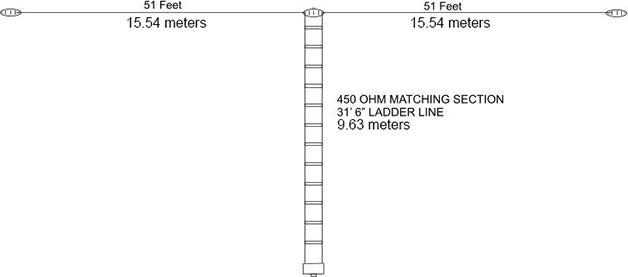 The standard-size G5RV functions as follows:

80m - portion operates as folded dipole beginning approximately 15 ft. down ladder line
40m - two half-waves in phase on 7 MHz with a portion folded in the centre
20m - three half-wavelength antenna
15m - two full-wave lengths fed in-phase
10m - two one and a half-wave lengths in line fed in phase

The G5RV is slightly short on 80 meters where the 450 ohm line serves as a form of matching stub and both a stub and/or impedance matching transformer on the other bands.
G5RV Full Size HF Wire Antenna is an HF Amateur Band, Receive and Transmit Antenna, covering 80m to 10m bands. It's overall length is 102ft , and should be fed with good quality 50 Ohms coaxial cable (recommended feed length of 45 or 90 ft). The ribbon cable should hang downwards and forms part of the radiating antenna. To achieve optimum results, this antenna should be mounted as high as possible, either horizontally or in an inverted "V" formation, with the centre mounted at least 36 ft from the ground. G5RV comes fully assembled & ready to go. Excellent for use where space is limited, good for unobtrusive garden. A highly recommended Short Wave listening antenna. UK made and supplied complete with ladder feed and fittings. Frequency 3.5-30 MHz Bands 80-10 metres Full length 102 feet 2 x 51 feet poly weave none kink wire elements Ladder ribbon cable Feeder terminated in SO-239 Socket 2 x dog bone insulators complete with instruction sheet Made In Great Britain The superior full size G5RV comes fully assembled and ready to go.