9:1 unun 300 watts HF 160 to 6 meters
Brand: Wire Antennas UK
Product Code:9-1 unun 300 watts HF 160 to 6 meters
Availability:1
---
---
HF 160 to 6 meter band with N Female Connector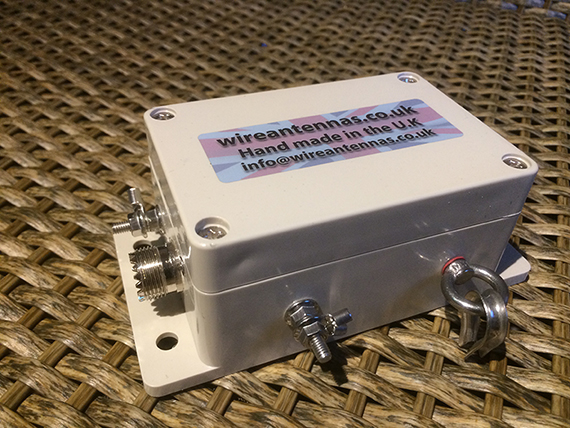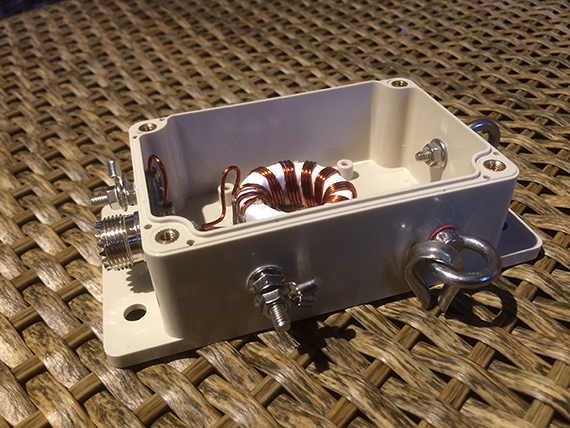 9:1 Unbalanced to unbalanced current transformer enables a long wire antenna or end fed vertical to be fed using standard 50ohm coaxial cable. This reduces feedline static and noise levels on both receive and transmit. It also provides a DC path to Earth.
Ham Radio UNUN Balun 9:1 300w Type 61 core material giving extremely flat bandwidth. Note these cores are expensive and beware cheap 9:1's will not perform as you expect. Low Insertion Loss and exceptional match to 450 ohm right across all HF bands. Stainless steel hardware. Wire is Class H 212 Deg Celsius double coat enamel. Sealed weatherproof box Usable Frequency Range 160m to 6m. The second photo shows an antenna analyser directly connected to the 50 ohm side of unun with a 450 ohm load. Suitable for long wire , Fully Tested and available for immediate dispatch. Full test report available on request.
Why do I need a high power or high efficiency balun ?
Qrp operators will appreciate this point. Efficiency and heat dissipation. Cheap baluns are very inefficient. Proving this is readily accomplished with two baluns back to back . You now have a 50 ohm to 50 ohm system. Now measure the power in and the power out. Cheap = very inefficient = very hot. I offer a service to the radio amateur community. I do not compromise on quality and I offer these baluns at the very lowest cost possible. Many thanks to the numerous Radio Amateurs and Radio professionals who have given me their support.